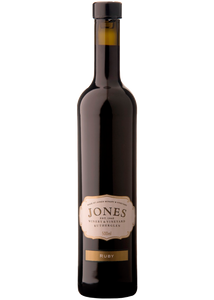 Jones Winery is one of the oldest and smallest wineries in the Rutherglen District. Established in 1860 by a German migrant named Fritz Ruhe, this was the first winery in Rutherglen where the devastating louse phylloxera, that wiped out all the vineyards in Victoria, was discovered.
Fritz lived long enough to see the vineyard replanted and died in 1914 at the age of 85. Fritz's son William sold the winery to Clarence Carbery in 1925. He worked the property for two years before it was bought by Leslie Jones Senior ("Jimmy"). The property known as Jones Winery & Vineyard has remained in the Jones family ever since.
Les Jones Jnr took over the running of the property in 1979 when his father passed away. He carried on running the winery and vineyard just like his father did before him. A cellar door sales area was added and the winery was extended during this time. Les retired in 1998.
Currently, Jones Winery & Vineyard is owned by the brother-and-sister team of Arthur and Mandy Jones. They have been working the 75-hectare property since 1998 after taking over from their uncle.
The owners are the children of Les's only sibling Douglas (a winemaker for Seppelts in Rutherglen until 1984). Having grown up surrounded by wine, some of it rubbed off — whilst each one of them had followed a different career path initially, the call of wine, and in particular Rutherglen, was just a little bit too hard to resist.
Notes and Reviews
Château Tasting
A blend of liquorice, fruit and alcohol with a hint of chocolate and a palate to match, with mouth-filling flavours and a slight touch of sweetness on the finish.
Product Details
| | |
| --- | --- |
| Vintage | NV |
| Grape Varieties | Syrah |
| Viticulture | Conventional |
| Type | Sweet |
| Age of Vines | 50 years old |
| Vinification | The grapes are picked as ripe as possible, then pressed and fermented until the desired sugar level is reached. |
| Elevage | Fortified using neutral grape spirit and aged in old wooden vats before being blended and bottled. |
| Soil Type | Quartz, loam and red clay |
| Website | http://www.joneswinery.com.au/ |