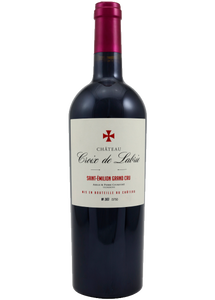 As soon as they had taken over the estate in 2012, Axelle and Pierre Courdurié were immediately convinced of the potential of this mosaic of plots in the middle of the Saint-Émilion Grand Cru appellation area. This is where they could finally fulfil their passion for wine. And change their lives.
When they met in 1994 in Washington state, Axelle was winemaker at the Columbia Winery, while Pierre was working in wine distribution. When she returned to Bordeaux, Axelle thought that her great experience plus fluent English would be more than enough to pursue her career. Unluckily for her, Bordeaux in the 90's did not welcome women into wine, whatever their field of expertise.
She changed her plans and developed her career in a major French group specialising in building materials It was hectic, but flavourless, so she quit, when the desire to roll up her sleeves and get to work on a project closer to her aspirations became an absolute necessity.
The tiny plots of Château Croix de Labrie total an area of 3.5 hectares (8.7 acres) in the middle of the Saint-Émilion Grand Cru appellation area. Rational cultivation techniques are applied in tending the vines, whose fruit produces three great wines.
Château Croix de Labrie Saint-Émilion Grand Cru is the jewel of the estate and is made from grapes coming from the Badon plots, alongside Château Pavie and from the top of Saint-Christophe des Bardes, just beside the cellars that date back to 1687. This is a Merlot varietal like the best of the crus classés. Château Croix de Labrie is a Grand Cru and is one of that select family, perhaps the best of the small estates — very exclusive and rare.
Notes and Reviews
James Suckling (96)
This shows so much violet and dark-berry character on the nose. So enticing. Full-bodied with chewy and polished tannins, blackberries and eucalyptus and a light, menthol note to finish. A rich yet touching wine. Try after 2023.
Neil Martin (92)
The 2016 Croix de Labrie has a lovely, pure, generous bouquet of black cherries, cassis and light violet aromas that maintain admirable control and focus. The palate is medium-bodied with fine-grained tannin, good structure and a superb line of acidity. This is one of the best wines I have tasted from Croix de Labrie. Excellent.
Product Details
| | |
| --- | --- |
| Vintage | 2016 |
| Grape Varieties | Merlot, Cabernet Franc, Cabernet Sauvignon |
| Viticulture | Biodynamic |
| Type | Red |
| Age of Vines | 45 years old |
| Vinification | Hand picked and fully destemmed followed by a cold-soaking for 4 days. The fruit is vinified plot by plot. Different temperature levels are adhered to, but never higher than 26° C (79° F). The cap is punched down manually. |
| Elevage | 18 months in new oak barrels |
| Production | 8,000 bottles |
| Soil Type | Clay over limestone |