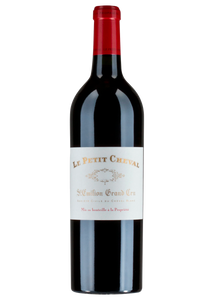 "Château Cheval Blanc, which is translated into 'white horse', has a long, colorful history in St. Emilion that is traced all the way back to 1832. That was the year the Ducasse family purchased land from the much larger estate of Château Figeac. Prior to its rebirth as Cheval Blanc, the vineyard was better known as Le Barrail de Cailloux, which is loosely translated into 'the barrel of tiny stones'.
"The original vines purchased from Figeac became the genesis of what many people think is the best wine of St-Émilion, Château Cheval Blanc. At that time, back in 1832, Figeac was owned by Countess Félicité de Carle-Trajet. In those days, Figeac had grown to a massive 200-hectare estate. It was the Countess who decided to sell portions of their holdings to interested buyers. The breakup of Figeac helped create a myriad of new St-Émilion winemaking estate for numerous interested buyers. That explains why so many châteaux include the word Figeac as part of their name. However, the owners of what was to become Cheval Blanc eventually wanted to establish their own identity that was seperate from Figeac…"
— The Wine Cellar Insider
Notes and Reviews
Robert Parker (89)
The medium-bodied 2001 Petit Cheval (15,000 bottles) was made from 57% Cabernet Franc and 43% Merlot. It does not possess the weight of its bigger sibling, but there is admirable perfume, good vibrancy to the cool climate characteristics, and excellent definition. Drink it over the next 7-8 years.
Product Details
| | |
| --- | --- |
| Vintage | 2001 |
| Grape Varieties | Cabernet Franc, Merlot |
| Viticulture | Conventional |
| Type | Red |
| Age of Vines | 20 years old |
| Vinification | 21-28 days' fermentation and maceration in temperature-controlled stainless and concrete vats |
| Elevage | 18 months in 100% new oak barrels with racking every 3 months |
| Production | 15,000 bottles |
| Soil Type | Clay over limestone |